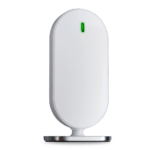 The WeR@Home™ Hub is an intelligent, home control panel for managing and communicating with the on-site.
WeR@Home™ peripherals. The Hub is the central gateway that connects to the mobile app and to the WeR@Home™ Servers
The WeR@Home™Hub controls all devices, and communicates to the backend server. It is the heart of the system. The Hub supports up to 98 devices.