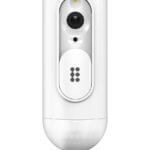 The only wireless HD video motion detector for professional security monitoring
High definition security-enhanced indoor PIR camera seamlessly integrates with control panels from the WeR@Home product suite.
Its features include:
• The perfect combination of motion detection and high definition image capture functionality
• Transmits HD video over wireless channel to a monitoring service, end-user mobile app, or via email.
• Wide-angle camera coverage for intrusion verification
• Alarm verification – Camera captures high quality videos
• High performance in very low light conditions
• Pet immunity up to 30 kg (66 lbs.)
• Sealed optics for insect immunity
• 15-minute walk test mode after power up
• Wireless and battery-operated for easy, maintenance-free installation
• Manual shutter to cover the camera lens for absolute privacy .
Key Features
The perfect combination of motion detection and high definition image capture functionality

Wide-angle camera coverage for intrusion verification

Manual shutter to cover the camera lens for absolute privacy