Remote monitoring solutions have been used in several countries to reduce the number of victims and the pressure of patients in crowded hospitals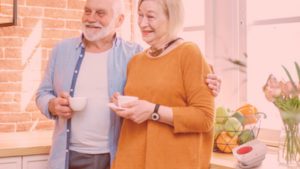 We are coming to terms with a new reality that is illustrated by the dramatic COVID-19 statistics from around the world. The International Council of Nurses estimates that at least 90,000 caregivers have been infected and that more than 260 nurses have died from the pandemic worldwide. In the US, one in every three deaths from coronavirus are nurses, workers or elderly in nursing homes. In the UK, more than a third of the deceased were over 85 years old, while in other countries, like Spain, 15% of all elderly people who were in nursing homes have died. This is unprecedented for society in general and for the telecare industry in particular.
The challenge for telecare companies being prepared for this new reality. The rapid spread of the virus has confined millions of people and has forced the imposition of social distancing throughout the world. However, it has also shone a spotlight on solutions that have proven very effective in reducing the high number of victims among residents and also among caregivers.
Remote user monitoring solutions have been particularly effective. These platforms offer a unique solution to the challenges of the COVID-19 pandemic by reducing the need for physical contact and allowing family members and professional eldercare providers to remotely monitor older people 24 hours a day, 7 days a week. In other words, the platform makes it possible for health administrators to manage the entire patient care process for those with mild or moderate symptoms. It ranges from early identification to remote monitoring of patients' health, as well as other needs depending on their condition. The earlier a probable infection is detected and continuous clinical follow-up is performed, the greater the chances that it will not become critical.
We have seen examples of this in action around the world. In the Netherlands, these solutions have been used successfully during the pandemic at corona hotels, which received infected people who were well enough to be discharged but were still exhibiting symptoms, as well as people with cases of positive infection with minor or no symptoms who were redirected to hotels instead of hospitals. After a significant increase in cases in Brazil, authorities in some cities deployed advanced remote monitoring devices such as home emergency alarms, voice communication or fall detection to protect both seniors and medical personnel.
Remote monitoring solutions have also provided tremendous benefit at residences in Australia, where advanced technology for remote monitoring of activity for the elderly was used together with thermal cameras to detect virus symptoms.
This is telecare in action. These technology solutions have saved the lives of patients and caregivers with COVID-19 and, have reduced the pressure on already overworked hospitals.
It´s clear. The benefits of telecare are not just theoretical. Our advanced telecare technology has been used to safeguard the lives and health of seniors long before we ever encountered COVID-19. Over the years, our customers have shared numerous stories of how smart telecare has gotten seniors the help they needed when they needed it. For example:
Mrs. K., a 79-year-old, medically fragile, woman used her emergency pendant a number of times to summon emergency medical assistance when she was experiencing nausea and vomiting. In another case, an emergency alarm was automatically generated when the telecare system determined that she had been in the restroom for an atypical amount of time. Mrs. K. had fallen and sustained a head injury. She was taken to the hospital by ambulance and received necessary treatment. She continues to live at home.
Mrs. B, an 89-year-old woman with a history of stroke, was contacted a number of times by the monitoring center when the advanced telecare system determined that she had been in the living room for an unusual amount of time. One of these times, she had suffered a stroke. When she did not respond, an ambulance was dispatched; likely saving her life.
These tried-and-true methods continue to provide real benefit.
Telecare technology helps ensure that seniors and others are properly monitored and cared for – despite the challenges