SigmaDots blockchain-based solution enables protection for IoT and IIoT systems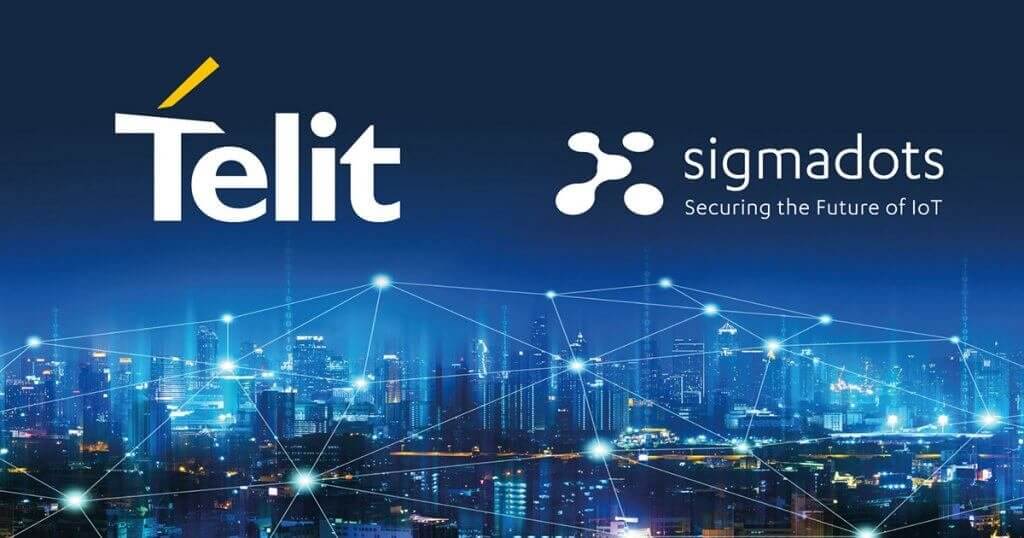 Tel Aviv – May 22, 2019 – SigmaDots, a cyber-security startup and subsidiary of Essence Group, has partnered with Telit, a global enabler of the Internet of Things (IoT), to expand IoT security and strengthen business continuity leveraging SigmaDots technology. Essence Group is a market leader in developing LTE-based connected devices and IoT platforms.
SigmaDots has developed the first embedded, blockchain-based cybersecurity solution for IoT and IIoT systems. Telit, recognizing the need for enhanced solutions, is working closely with SigmaDots to improve resilience to cyberattacks. The companies are collaborating on the use of blockchain technology for routers, control panels, IoT gateways, and a host of IoT devices, drastically reducing device vulnerability to cyberthreats.
"The ubiquity of IoT devices makes them attractive targets for cyber mischief," said Alon Segal, SVP of Software & Services, Telit. "Our collaboration with SigmaDots adds another layer of security and communications resiliency using distributed technologies to offer advanced, secure infrastructure solutions for our customers."
SigmaDots software-based solutions harness the power of serverless architecture, bringing blockchain-based cybersecurity to the IoT ecosystem. With a scalable, interoperable, and secure platform uniquely adapted to the limited resources of IoT, SigmaDots empowers connected ecosystems to accelerate the machine-to-machine economy.
"IoT is finally delivering on its promises of complete connectivity – wearables, mobile apps, home safety, smart meters and in industry – generally anywhere" said Itsik Harpaz, General Manager of SigmaDots. "However, this connectivity brings significant threats – an attack on a single device can spread throughout the entire network."
IoT devices without strong cyber protection can easily become part of a botnet to carry out distributed denial of service (DDoS) attacks or fall prey to IoT-focused attacks like man-in-the-middle, data and identity theft, and device hijacking.
"SigmaDots technology was developed out of the need to strengthen the security of our IoT devices," said Dr. Haim Amir, CEO and founder of Essence Group. "We've been creating innovative connected device solutions for more than 25 years, so we fully understand the challenges and the necessity of creating airtight cyber protection."
The team at SigmaDots, with a combined three decades of experience in military cybersecurity, has enhanced the innovations created for Essence, strengthening connected device management with a completely new approach. The SigmaDots solution can be embedded in systems on chips and is also available as an aftermarket product that IoT distributors can install as a value-added solution.
SigmaDots will be demonstrating its technology at InfoSec Europe in June 4-6 in London, Booth #C240.
About SigmaDots
SigmaDots leverages Essence Group's 25 years of IoT expertise to provide distributed cybersecurity solutions to IoT ecosystems using advanced blockchain technology, combining the creativity and agility of a startup with the experience of a market leader. SigmaDots' solution harnesses the endpoints to secure networks and is uniquely adapted to the constrained resources of IoT platforms.
About Essence Group
Essence is a global provider of IoT connected-living and cyber-security solutions for communication, security, and healthcare service providers, serving households and small-medium businesses. Leveraging 25 years of experience and innovation with a global presence and 30 million devices deployed worldwide, Essence is committed to developing and supporting solutions that enhance partners' businesses and enable people to live fuller, better lives. The multiple award-winning Care@Home Multi-Service Platform is an Aging-in-Place product suite offering seamless home care monitoring indoors and outdoors, allowing independence for seniors and peace of mind for their loved ones.
 About Telit
Telit (AIM: TCM), is a global leader in Internet of Things (IoT) enablement, with an extensive portfolio of wireless connectivity modules, platforms, virtual cellular IoT operator services, and professional services, empowering hundreds of millions of connected 'things' to date, and trusted by thousands of direct and indirect customers, globally.  With nearly two decades of IoT innovation experience, Telit continues to redefine the boundaries of digital business, by delivering secure, integrated end-to-end IoT solutions for many of the world's largest brands, including enterprises, OEMs, system integrators and service providers across all industries, enabling their pursuit of enterprise digital transformation.
Media Contact
Sharon Dayan
Marketing Communication Manager