Leader in IoT solutions awarded best in category for Intrusion Systems for its latest iteration of the world's first LTE-M-enabled all-in-one intruder intervention and deterrence system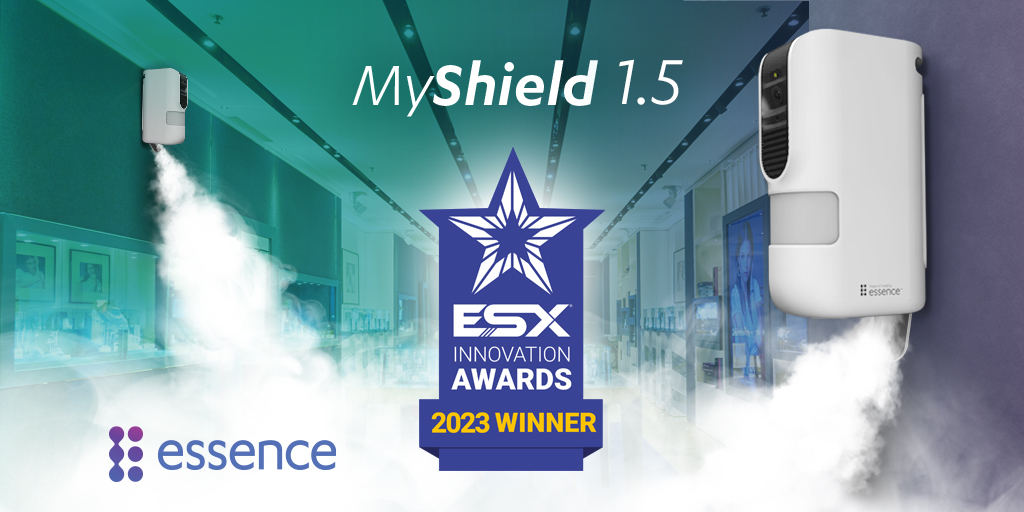 Herzliya, Israel – June 6, 2023 – Essence Group, a leading technology group developing and supplying wireless, cloud-based security solutions for homes, families and businesses, today announced its enhanced MyShield 1.5 intruder intervention system has been awarded the 2023 ESX Innovation Award in the Intrusion Systems category. This marks the third consecutive year that an Essence security product has won an ESX Innovation Award.
 MyShield 1.5 is the latest version of the world's first all-in-one standalone security fog-generating intruder intervention and deterrence system. The battery-operated standalone device features a range of updates and enhancements, including the capability to deploy multiple devices in one space. This maximizes the fog coverage area, allowing users to secure much larger areas, such as warehouses and production facilities. MyShield 1.5 supports multi-user management and control, and its newly improved communications and faster data transfer enable security service providers to scale installations according to customers' specific needs in a more efficient and cost-effective manner.
"We are thrilled to once again be recognized by ESX for our distinctive market-leading innovation," said Dr. Haim Amir, CEO and Founder of Essence Group. "Businesses and individuals alike deserve reliable, innovative security products that go beyond the reactive to offer proactive deterrence and intervention. By expanding from detection alone to immediate verification and intervention, MyShield continues to set a new standard for the security industry and bringing peace of mind to property owners around the world."
The ESX Innovation Awards recognize outstanding products and services that drive the electronic security and life safety industry forward. Award nominees include manufacturers and service providers that offer innovative solutions and tools to help dealers and monitoring professionals become more efficient and profitable.
"This recognition serves as an affirmation that Essence's technology is truly changing security for the better," said Yaniv Amir, President of Essence Security, North America. "As an on-site first responder, MyShield is giving individuals the ability to proactively deter potential threats and have greater control to protect individuals and property alike."
Essence Group will showcase the latest MyShield 1.5 intruder intervention system at booth #812 at the ESX Innovation Awards Showcase.
About Essence Group
Essence Group is a global technology leader with a mission to develop and deploy innovative, cloud-based end-to-end security and healthcare solutions, underpinned by supporting services, that provide peace of mind to users. For over a quarter of a century, Essence has challenged convention by making care and safety both accessible and affordable. With over 80 million connected devices deployed worldwide, Essence helps people to live safer and more independent lives.
For more information: https://www.essence-grp.com/
Follow Essence Group on LinkedIn, Twitter and Facebook
Essence Media Contact:
Mushkie Meyer
Headline Media
mushkie@headline.media
US: +19143364035