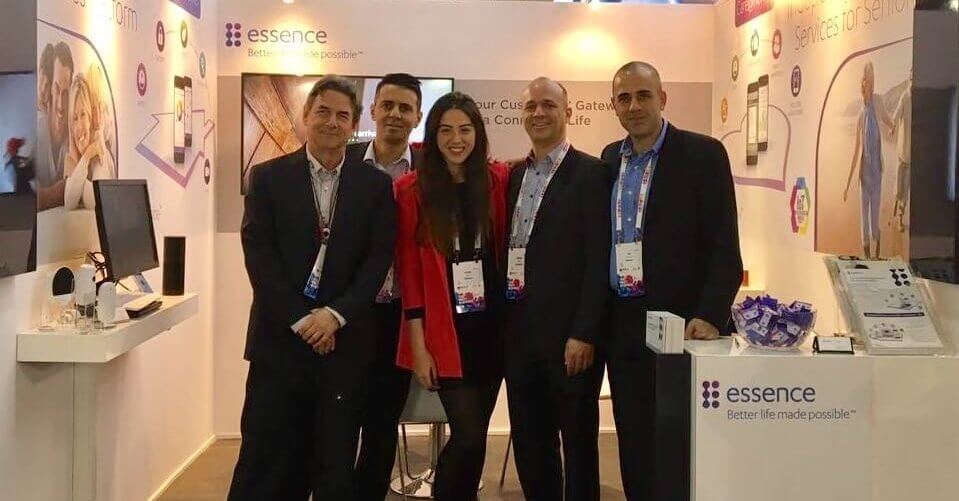 Once again, Mobile World Congress —the world's largest annual industry trade event, has taken place in Barcelona, bringing together one hundred thousand professionals from all over the world into a single venue to showcase and discuss the latest innovations and trends in the telco market.
Following on from recent editions, Mobile World Congress has been not so much about mobiles anymore, but about the endless potential of connectivity. Indeed, there have been some new mobile announcements, but connectivity in all its shapes and possibilities has undoubtedly been the leitmotif of this year's edition: 5G technology, Internet of Things, smart cities, connected cars…. Those are the things MWC 2017 has been about.
For Essence, this was our fourth year running exhibiting at the event, and we were very satisfied with the overall interest in our solutions. We welcomed lots of visitors to our booth over the four days of the show, from sales representatives, media and industry analysts and many people who were just curious to see our Connected Living solutions for service providers in action.
The main focus of our booth were our innovative Connected Living solutions aimed at service providers looking for ways to expand their business, grow their customer base, build stronger user loyalty and increase their ARPU, while differentiating themselves from competitors.
For some time now, operators have been looking for solutions to provide families with a way to ensure the wellbeing of their elderly loved ones and our Care@Home Family was seen by many as a perfect way to increase families' engagement with their loved ones – and also with their mobile providers. This is highlighted in our recent announcement of our partnership with Telekom Slovenije to provide Care@Home solutions to the Slovenian market.
On the Connected Home front – our expanded eco-system, and particularly our ability to include the increasingly popular Nest and Alexa in the WeR@Home Management platform was a bit hit among visitors.
There were some significant Uber trends also apparent at the show this year. Although some technologies seem rather stagnant, such as virtual reality, where we have seen little innovation so far and a lack of practical use, there has been a lot of hype with 5G —which is being called the Fourth Industrial Revolution- along with connected cars smart cities and, inevitably, Internet of Things. In fact, several automotive companies exhibited at this year's MWC —and we expect more to follow their lead in the years to come– while telcos such as AT&T with their "AT&T Connected Car Showroom" prominently featured this trend in their pavilions.
One interesting thing that caught our attention in this year's exhibition, is a global industry shift in the way companies develop and market their products. They have transitioned from the firm belief that more technical specs and functionalities equal more innovation, and have changed the focus towards user experience. Now, user experience is everything, and we are very happy with this shift, as we have always believed in the tenet that the user experience is paramount to the providing real value to end users.
Mobile World Congress 2017 is over now, but what we have seen in Barcelona during these days will surely have a deep impact in the months to come. We take this chance to send a warm thank you to all the visitors to our booth, to the event organizers and to our amazing Mobile World Congress team, who did a great job there. We hope to see you around next year!