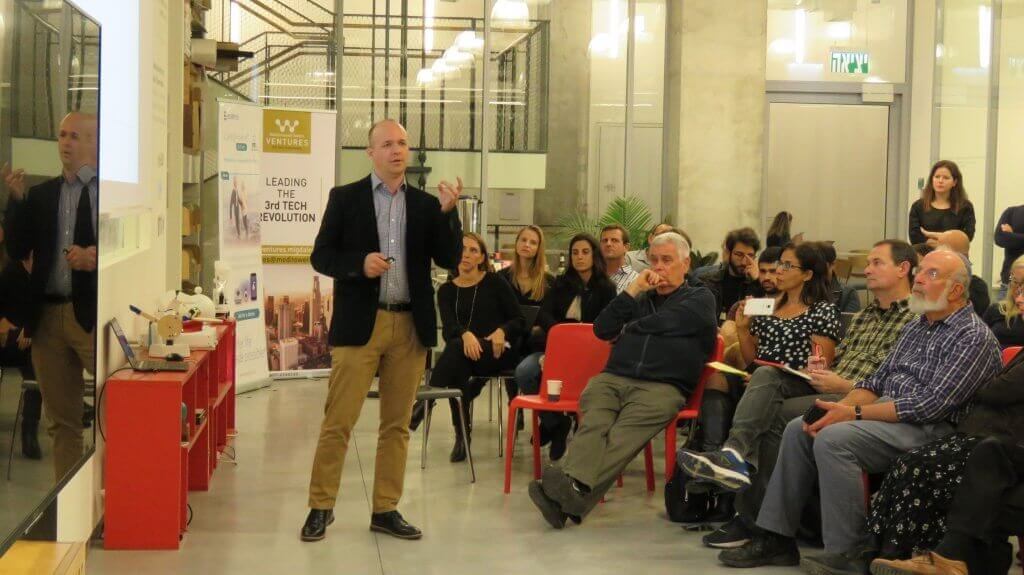 Last Sunday, at The Media Innovation Lab (miLAB), a leading research & prototyping academic lab at IDC Herzliya, Essence, Aging2.0 and Mediterranean Towers Ventures hosted a Meetup to discuss how innovative Artificial Intelligence and robotics technologies that are available in the market today can help improve senior care and make aging easier.
Dov Sugarman, the representative in Israel of Aging2.0 —a global organization on a mission to accelerate innovation to improve the lives of older adults around the world—, and co-CEO of Mediterranean Towers Ventures, spoke about The Biggest Challenges and Opportunities in Aging. Among the challenges he mentioned:
Isolation — since many seniors lack a sense of engagement and purpose, one of the challenges is to help them be meaningfully engaged, not only with their families, but also in society
Financial wellbeing — people live longer and therefore new models for planning and financing care are necessary
Mobility — much needed for safety, independence, and socializing
Daily living — one in every three seniors over 65 needs assistance with at least one daily activity
Caregiving — family caregivers need better support, resources, and tools to support their loved ones
Brain Health —Maximizing cognitive ability is increasingly a priority for aging societies as the number of people with Alzheimer's and other cognitive issues continues to rise.
According to Dov, in each of those challenges there is an opportunity for service providers, supported by new technologies and services.
In his talk AI: Better Life Made Possible for the Elderly, our Head of Marketing Rafi Zauer explained how to tackle those challenges through the use of innovative Artificial Intelligence. He began by explaining how, thanks to technological advancements, senior care is undergoing a profound paradigm shift, going from passive to active. Whereas in the past, elderly care was reactive – "I've fallen and can't get up" – we reached a point where our response was proactive – "a fall has just happened" – and finally, in its present stage, predictive – "a fall is about to happen." And the revolutionary technology that is making this paradigm shift possible is artificial intelligence.
Thanks to AI, machines can learn about a senior's daily routines and habits, and are able to predict a fall or detect a health condition by noticing a deviation from those patterns. With AI, smart devices not only monitor seniors, but also learn, update, and adapt over time, accompanying seniors through the aging process. Smart devices are not only able to help prevent a fall before it occurs, but also to help identify behavior that may be indicative of diseases connected to aging such as Alzheimer's, even in its early stages. Smart devices also enable a quick response in case of emergency. The best part is that this is all done seamlessly, without any intervention from the senior, providing invisible care as they go on with their normal life.
To give a different perspective, Dr. Oren Zuckerman from miLAB, who is an expert in human-computer interaction, offered an insightful lecture about How New Approaches in Robotics UX Can Change the World of Aging. Thanks to a paradigm shift in the way they are designed, robots are becoming more accessible to people. In the next few years, they will begin to use non-verbal communication such as physical gestures and sounds instead of words. Also, as opposed to the image many of us have about how a robot should look, they will no longer be made to look like people, but rather like objects that react to a human presence. For the elderly population in particular, this type of relationship will be critical to help overcome some of the biggest challenges mentioned by Dov Sugarman: lack of a sense of control or purpose, and loneliness.
Traditional senior care solutions that have been in use for many years, such as the classical panic button worn around the neck to be pushed in case of emergency, are no longer enough to fulfill the market's needs; they are becoming obsolete. The world's population is rapidly aging, with a resulting rise in costs and increase in pressure on public healthcare systems. Also, partly due to the sharply rising costs of care homes, seniors wish to be able to stay at home and remain independent for as long as possible. New times call for new solutions, and technology has made it possible for us to offer those solutions. Thanks to artificial intelligence and robotics we can provide better, personalized, proactive care, helping seniors stay at home longer and live a better, safer life. We already have the technology. We need the smart care market to catch up with the times.
All in all, the Meetup was a great success. It got very high attendance due to the interesting topics of the lectures and the matters at hand. We really hope we have the chance to organize more events like this in the future. Don't forget to subscribe to our blog so you don't miss a thing!