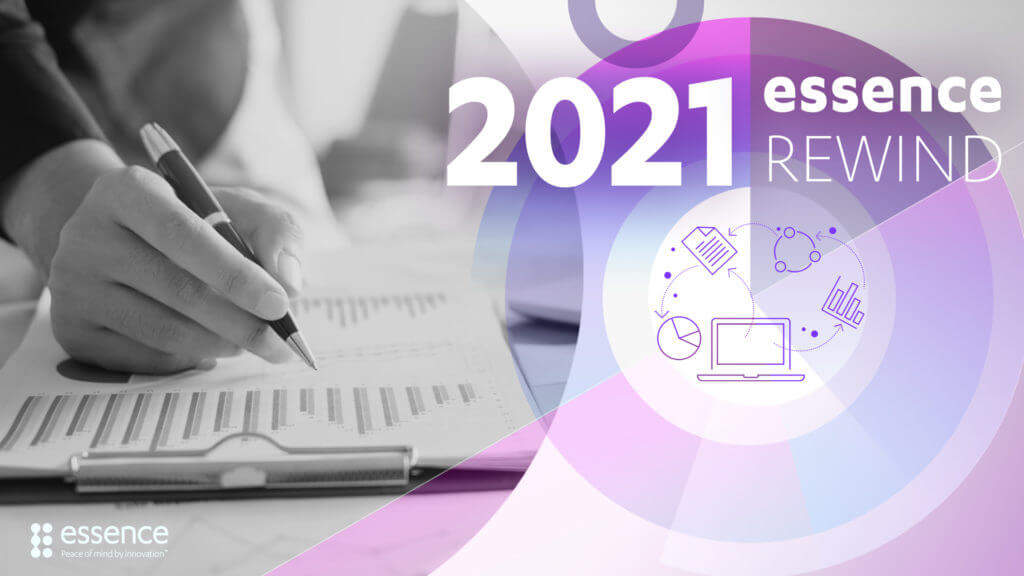 2021 was a wild year all around. In a year full of hardships from COVID-19,  supply chain failures , and more, Essence Group was proud to have had an exciting and fruitful year complete with product launches, industry innovation awards, and milestones; including the deployment of the  1 millionth digital device  from Essence SmartCare and crossing 75 million devices deployed by Essence Group since our inception, as well as Joli360 adding 10 new distributors to their portfolio.
Most importantly we are proud to have helped and positively affected millions of people across dozens of countries, making people's lives just a little bit easier and giving them peace of mind in a year that, for many, wasn't easy. This includes the fact that we were able to connect 3.5 million emergency calls leveraging our Care@Home solution , saving countless lives and ensuring that those in need were able to receive assistance as fast as possible.
A New Direction – Peace of Mind Through Innovation
At the beginning of the year, Essence announced a new corporate strategy prioritizing  Peace of Mind as our ultimate purpose. Included in this is a commitment that all future company innovation will continue to serve our customers, end-users, and their families' basic need for feeling safe. We call this "Peace of Mind by Innovation". With this new strategy, we are committed to harnessing the power of technology in order to help users feel better while simultaneously benefiting our strategic partners.
In addition, we expanded our environmental sustainability and social responsibility programs. This is exemplified in the long-term partnership with Flex where programs were implemented that have drastically reduced the usage of tin lead solder, use more recycled plastics (55% and rising) and significantly lowered water usage in the manufacturing process.
Essence Group has also developed ground-breaking power consumption algorithms in its wireless security and safety devices that both reduce the use of energy and provide longer battery life, that in turn gives an improved end-user experience through minimal product maintenance. 
Product and Solution Launches
WeR@Home+
In early 2021, we launched the next generation of our smart living platform, WeR@Home+. Built upon our existing WeR@Home solution, the innovative system incorporates 4G LTE connectivity, a new family of connected security devices, and a rich set of reporting and analytics tools for service providers. The most exciting upgrade in the announcement about the WeR@Home+ system was the addition of a wireless HD video motion detector, the first of its kind. We have been thrilled with its reception so far and are excited for further upgrades coming in 2022.
VitalOn
In May of 2021, Essence SmartCare launched VitalOn, a comprehensive remote patient monitoring (RPM) platform for active seniors and older adults living with chronic conditions. Evolving to the new needs of seniors brought about by COVID-19, many of whom were forced to stay home without family or friends to visit, Essence Group, and the world, needed to make a pivot toward remote monitoring.  VitalOn introduced a new concept to the care market by combining telecare, wellness and RPM capabilities into a single, always on, connected platform. The solution has already been successfully integrated into the homes of thousands of seniors around the world. Proudly, VitalOn was named as a CES 2022 Innovation Award Honoree.
MyShield
Adding to our renowned security offerings, Essence Security launched MyShield, a standalone, all-in-one intruder prevention solution for homes and businesses. The IoT-based system utilizes an HD camera and PIR motion sensor along with an integrated smoke generator to actively protect property, people, and assets. MyShield can either be used as a standalone solution connected to 5G CAT-M/NB IoT networks or integrated into any existing security system. This solution was also named as a CES 2022 Innovation Award Honoree, and we look forward to gaining greater recognition from the market for this revolutionary device.
Umbrella Mobile Safety Solution
For many "aging-in-place" solutions, monitoring starts and ends at a person's door. This is why Essence introduced Umbrella, the world's first 5G-enabled mobile personal emergency response system (mPERS). Comprising built-in fall detection, real-time activity monitoring and two-way voice capabilities, it is suited for a range of personal healthcare, security and wellness services, including senior care and lone worker scenarios. Umbrella is robust and water resistant – with both geolocation and indoor location capabilities – allowing it to be used in a variety of indoor and outdoor settings. Umbrella can accompany families throughout the lifecycle from children's safety, to work, to aging parents.
The Umbrella solution will also have a unique role in the future of the security market as mobile panic safety devices, like Umbrella, deliver an end-to-end layer of 24/7/365 personnel safety. With features that include built-in fall detection, real-time activity monitoring, two-way voice capabilities, and panic detection, the device is suitable for students on a campus, lone workers, large corporate campuses, delivery drivers, and more. 
Essence Enterprise Solutions
Essence stepped into the Enterprise security market with the launch of Essence Enterprise Security. This new line of business is built on our 27 years of experience in the security industry, which we adapted to fit the needs for larger scale security projects, including smart cities and campuses, airports and other transport hubs, stadiums, arenas, and industrial areas. This new offering will combine existing solutions from Essence, along with new ones such as the previously mentioned Umbrella, a new AI-based video monitoring platform, edge analytics capabilities, and more. This portfolio of products is perfectly suited for the complex security challenges faced by enterprises, especially those that manage remote employees within large complex facilities and campuses.
And That's a Wrap
2021 was a year of growth, prosperity, innovation, and new beginnings at Essence Group. Through all the challenges, we were able to work together as one to get through these unprecedented times and to give our customers and end-users peace of mind. We look forward to 2022 and to much success.