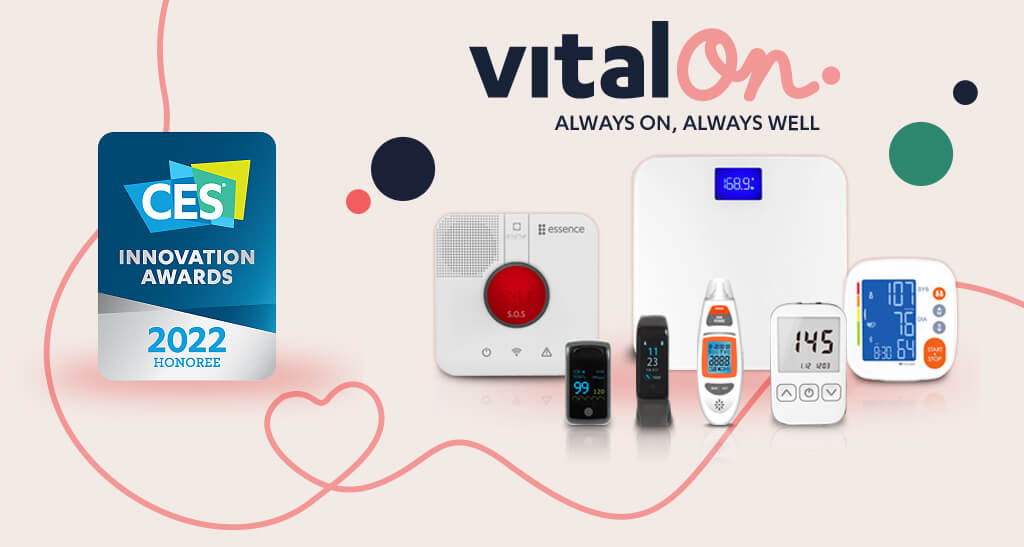 Essence SmartCare has announced that VitalOn, our comprehensive remote patient monitoring (RPM) platform, has been named a CES® 2022 Innovation Award Honoree.
This year's CES Innovation Awards program received a record high number of over 1800 submissions. The announcement was made ahead of CES 2022, the world's most influential technology event, happening Jan. 5-8 in Las Vegas, NV and digitally.
VitalOn is a comprehensive remote patient monitoring platform for seniors and individuals living with chronic conditions. Combining telecare, telehealth and wellness capabilities into a single, connected platform that is always on, it provides round-the-clock monitoring for a wide range of aging-related issues and chronic conditions. The platform continuously monitors wellbeing parameters and vital signs from multiple health and monitoring devices to detect and alert in case of abnormal activity. It addresses conditions, including diabetes, hypertension and congestive heart failure without the need to rely on smartphone or tablet apps.
The CES Innovation Awards program, owned and produced by the Consumer Technology Association (CTA)®, is an annual competition honoring outstanding design and engineering in 27 consumer technology product categories. Those with the highest rating receive the "Best of Innovation" distinction. An elite panel of industry expert judges, including members of the media, designers, engineers and more, reviewed submissions based on innovation, engineering and functionality, aesthetic and design.