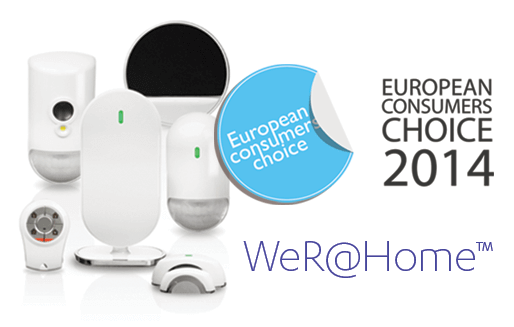 The European Consumer's Choice Award for 2014 has been awarded to Essence for its Smart Living – WeR@HomeTM solution. European Consumers Choice is an independent non-profit organization developed to reward companies for ingenuity of product design, innovation and ease of use. Essence is a global company specializing in cloud-based IoT connected-living technologies, such as professional home security, smart home and smart care solutions.
"The results were quite impressive; we actually tested six alarm systems in the past year, and none received an award," said Maximilien Lejeune, Executive Director, European Consumer's Choice. "Products are tested under normal conditions by regular European consumers and graded according to three categories: WeR@Home™ was rated 9.8 for ease of use, which almost never happens, 9.5 for innovation, and 8.8 for design, a global rating of 9.4, easily the highest score in its category."
The WeR@Home™ product suite offers a seamless connected-living experience that enables people to independently manage their home environments from anywhere, anytime, and on any screen. The modular offering includes security, safety, and home management capabilities. Z-wave compatible, cloud based and integrating the latest technology, WeR@Home lets consumers manage more than 1,000 devices and applications including door locks, switches, dimmers, and thermostats.
"WeR@Home™ was designed and developed at the highest standards of quality and reliability," said Dr. Haim Amir, founder & CEO of Essence. "Throughout the development as a standalone smart home offering we followed our Essence principles for superb customer experience, innovation, true DIY, and contemporary design. The European Consumer's Choice Award is particularly important for us as our product was tested by regular people, who gave our system a 9.8 for ease of use, validating our superb yet simple customer experience and design. This is a practical demonstration of how the IoT promise can be brought into everyone's homes via innovative and complex technologies yet simple customer experiences to enable a better life."