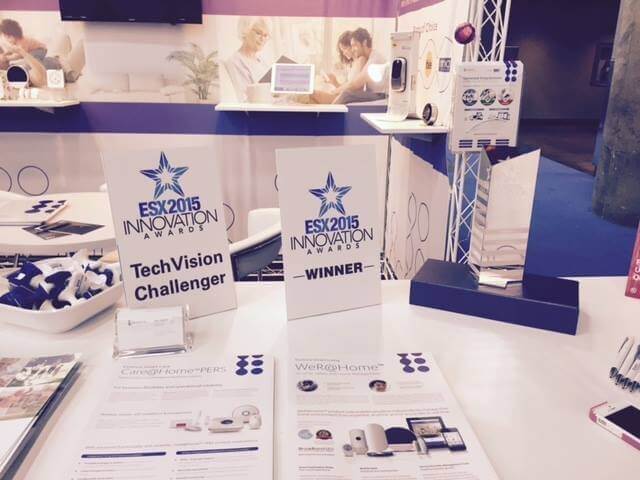 Essence Care@HomeTM  has won its first industry award, recognized as the winner of ESX 2015 Innovation for Digital Health /Well-Being Systems.
ESX (Electronic Security Expo) is the professional security exhibition in the USA bringing together professionals from electronic security and life safety market.
This award positions Essence once again as a market innovator – this time in the digital health space. Care@HomeTM is positioned as an innovative solution enabling home security & safety service providers to grow their business and deliver an innovative customer experience to their customers.
"Our winners represent the best of the best, we applaud them for driving our industry forward and improving both the end-user experience and our ability to run our companies efficiently and profitably," says George De Marco, ESX Chairman.
Categories and winners are:
Digital Health/Well-Being Systems
Essence: Care@Home™
Activity Sensing/Medicine Management
Access Control
Bristol ID Technologies: RFID Hangtag
Cards & Credentials – Biometrics, Smartcards, Wiegand, RFID, Magnetic Stripe, Bar Code, etc.
Honeywell Security Group: Pro-Watch 4.2
Controllers – Stand-alone, Networked or Appliance Based Systems
ZKAccess: BioCam300
Readers / Keypads
Cabling Products and Accessories
GEM Electronics: Universal BNC Compression Plug
Cable & Wiring Accessories – Connectors, Wiring Harnesses, Terminals
Dealer Services
Monitronics: Monitronics Dealer Portal
Business Operations & Financial Software
Fire Life Safety
Advanced Fire Systems Inc.: PerfectSync
Emergency Communications/ Voice Evac Systems
System Sensor: FAAST XT
Detection Appliances – Smoke/Heat/Gas Detection Devices
Home Electronics, Control Systems & Networking
White Rabbit Electronics: White Rabbit Smart Hub
Home Automation / Home Control Systems
Bold Technologies: WebProtectMe: Powered by Bold IT/Networking
Intrusion Systems
Interlogix: ZeroWire
Controllers & Control Panels
DynaQuip Controls: WaterCopPRO Integrated
Detection Sensors – Motion, Contacts, Environmental
ipDatatel: IPD Dual-Path Wi-Fi & Cellular Alarm Communicator
Cellular/Radio Communications
OPTEX: SL-650QDM
Outdoor Detection
Resolution Products: HeliPAD Wireless Security Keypad
Secured Wireless Communications Technology
Mobile Apps for Consumers/End Users
Cornell Communications: Inform
Commercial App for Security/Life Safety Systems
Innovative Business Software: Safe and Secure
Residential App for Security/Life Style/Life Safety Systems
Monitoring Center
ipDatatel: ipDatatel Z-Wave Gateway 3.0 (IPD GATEWAY 3.0)
Alarm Monitoring
I-View Now: I-View Now/Honeywell Total Connect Integration
Enhanced/ Verified Monitoring
Dice Corporation: UL Listed Hosted Monitoring Centers
Interactive Services/Security as a Service (SaaS)
Innovative Business Software: SBN Cloud
Monitoring Software
Specialty Products & Services
Dice Corporation: Telecom and ISP Provider
Video Surveillance
Honeywell Security Group: MAXPRO Cloud
Hosted & Managed Video Systems (VSaaS)
Honeywell Security Group: HRGX with I-View Now Digital Recording & Network Storage
Salient Systems: Web Client H.264
Video Management Software