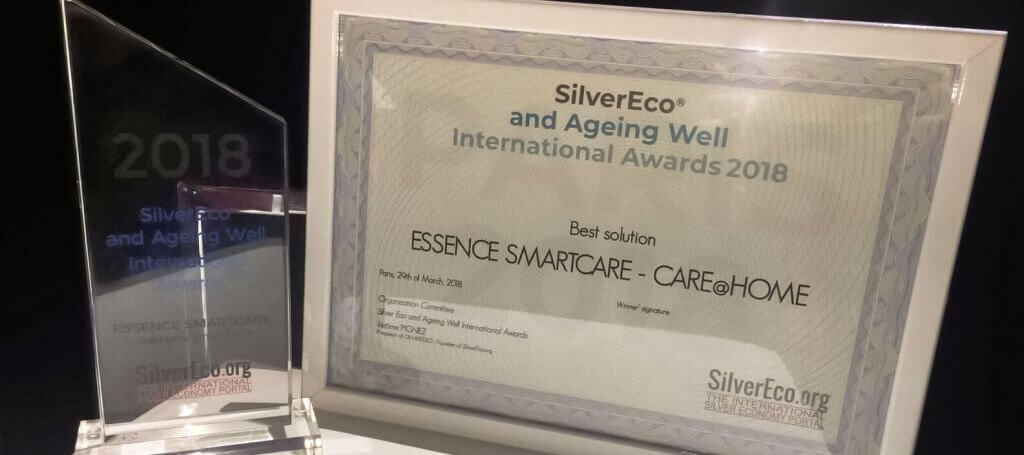 Essence Smart Care has been awarded the 2018 SilverEco© & Ageing Well International Award for its groundbreaking Care@Home Smart Alerting solutions.
SilverEco® and Ageing Well International Awards gathered all Silver Economy international stakeholders on the occasion of a gala event, the Silver Night. French and International professional guests were gathered to celebrate the best products/solutions/services/innovations in the field of Ageing Well. The Silver Economy and Ageing Well Awards in France have long recognized excellence and innovation toward creating solutions for active and healthy ageing. This is the first year the award is available internationally.
Care@Home Smart Alerting is a combination of technologies that ensures the safety of seniors through various intelligent emergency detection and alerting methods. Intelligent Voice Activation™ recognizes vocal calls for assistance, raising an alert to senior-care providers and allowing them to respond quickly to an emergency. The EPA is a combination of a fall detector, panic button and wellness measurement system that seamlessly connects to a mobile phone over Bluetooth Low Energy to continue to provide the same level of protection even outside of the home.
"This award is yet another reflection of Essence's holistic approach to creating solutions that transform lives," said Barak Katz, General Manager of Essence Smart Care. "We are proud that through our unique market perspective and technical expertise, we're solving real-life seniors' needs and have been recognized for this effort."
The SilverEco® and Ageing Well International Awards gala event took place on the 29th of March 2018 in Paris, France.