Automated Virtual Call Service Integrated into Essence's Care@Home Solution Introduced to Optimize Care Provision and Alleviate Care Team Overload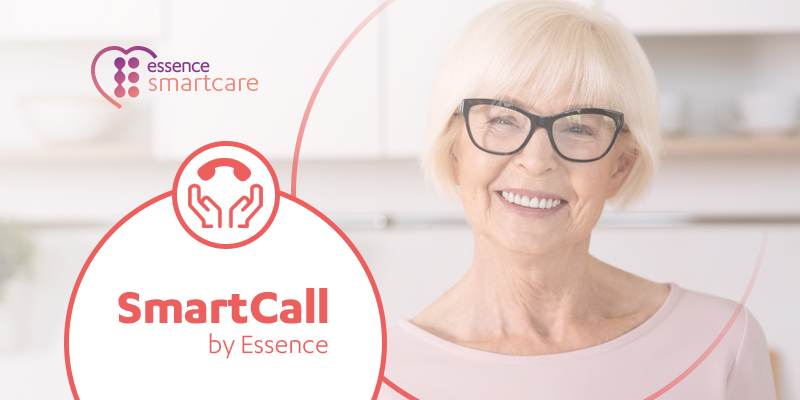 HERZLIYA, Israel – March, 29, 2023 – Essence SmartCare, a leader in IoT-based remote care solutions, today announced the launch of its latest SmartCall service offering, an automatic, intuitive virtual call system to optimize follow-up care for seniors receiving home-based care.
Leveraging voice recognition and AI-based technology, the SmartCall virtual assistant proactively calls users, asking a variety of key wellbeing questions to detect situations requiring attention. Data is collected by the system, analyzed and managed by a dedicated portal. This structured data facilitates more effective remote care and easier follow-ups, enabling care teams to improve delivery of quality care while optimizing their workloads.
"SmartCall represents a significant upgrade for seniors utilizing our telecare platform, improving engagement and adding an additional layer of data and analytics for both input and insight," said Barak Katz, General Manager of Essence SmartCare. "Leverages proprietary AI attention models, it significantly improves supervision and care."
The SmartCall system incorporates a variety of features, from pre-scheduled and on-demand calls to simplified data collection and creating structured reports. Its dynamic targeting of different needs and scenarios with a choice of protocols helps to address a range of wellness needs. It also provides care teams with integral support for building and prioritizing care plans and interventions when necessary.
"SmartCall is an important expansion of Essence SmartCare's services layer," said Dr. Haim Amir, CEO and Founder of Essence Group. "Integrated with our existing connected care solution, the system can enhance existing care capabilities while also providing a new service offering for providers."
SmartCall is implemented into Essence's Care@Home platform. Care@Home is an aging-in-place telecare platform providing real-time alerts to enable timely interventions that can potentially prevent deterioration in a senior's wellbeing.
About Essence SmartCare
Essence SmartCare, part of the Essence Group, develops advanced health and remote monitoring platforms for market-leading healthcare and senior care providers, enabling smart preventive care and emergency response so seniors can live life to the fullest – with total peace of mind. Partnering with Essence SmartCare helps position companies as progressive, forward-thinking and in touch with the need to enable elderly and vulnerable people to lead more independent and safer lives.
For more information: www.essencesmartcare.com
Follow Essence Group on LinkedIn, Twitter and Facebook