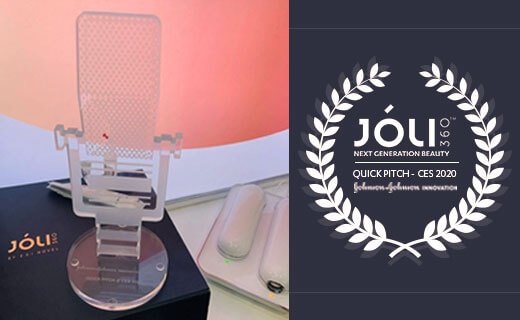 Our smart #IoT skin rejuvenation solution JOLI360 by ESINovel was one of the few technology companies to be selected the Johnson and Johnson Innovation Quick Pitch that recognizes Science, technology, & business model innovations in SkinHealth & SelfCare
Innovators were invited to apply to present to Johnson & Johnson External Innovation and Consumer R&D leadership during the week of CES 2020 in Las Vegas, Nevada.
The JÓLI360™ system includes multiple breakthrough technologies; three for treatment and three for measurement. JÓLI360™ uniquely combines all the benefits of cutting-edge technology and IoT. Wireless, safe, robust, and fully rechargeable. JÓLI360™ not only represents the next generation of skincare treatments but also makes them simple to deliver and easy to monitor.