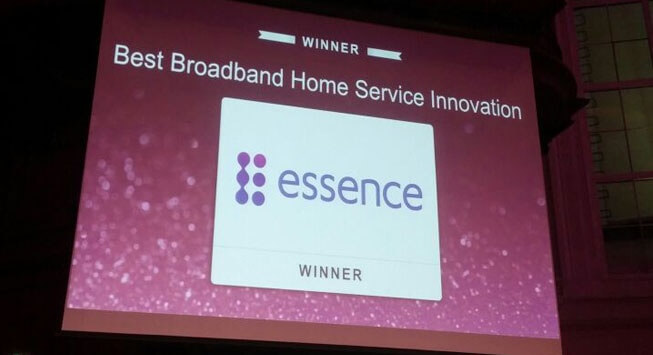 Essence has won the Broadband Infovision Award for Home Service Innovation for its WeR@HomeTM smart living solution. Essence is the leading provider of IoT, cloud-based connected-living solutions. The award comes on the heels of WeR@HomeTM winning the European Consumer Choice Awards in July of this year.
"Winning the Broadband Infovision Award provides validation from our peers in the telecommunications industry that we are offering them innovative solutions that will drive their business growth," says Dr. Haim Amir, Chairman and CEO of Essence. "Meanwhile, the recent European Consumer Choice Awards win reinforces the fact that we deliver what end users are demanding."
The Broadband Infovision Awards are conferred by the Broadband World Forum and are now in their 14th year.   James McGough, Director of Broadband World Forum, said that as a category winner, Essence's WeR@HomeTM "demonstrated first-class innovation and excellence in creating a globally connected society."
Essence's WeR@HomeTM smart living technology provides affordable solutions for the mass market, enabling consumers to seamlessly and remotely manage their connected homes from anywhere, at any time, on any screen in real time. It allows service providers to meet the needs of customers looking for ease, comfort, and peace of mind with a comprehensive security, safety, and home management system. Service providers benefit from increased ARPU and flexible business models. Fully expandable and modular for any home environment, its technician-free installation and remote maintenance and configuration make it cost effective for both operators and consumers.
Essence was chosen by a cross section of a 30-member judging panel, including some from an elite group of senior leaders in the telecoms, media and technology sectors including representatives from Telstra, Deutsche Telekom, Orange and Volvo Cars. The awards were presented at a gala ceremony at the Renaissance Amsterdam Hotel on October 22.
"Service providers and their clients look to Essence for the latest in home management solutions," concluded Dr. Amir. "Recognition by the Broadband World Forum as the most innovative smart home solution in the telecom industry reinforces our market leadership position."